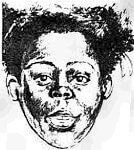 Estimated age: 3 years old
Approximate Height and Weight: 2'8" - 3'1"; 23 - 27 pounds.
Distinguishing Characteristics: Curly black hair and brown eyes.
Dentals: There were slight gaps between her baby teeth.
Clothing: The victim was wearing white pajama pants, a diaper and and a white, knit pullover shirt with a red pony emblem in the upper left chest area. She had brightly colored bows in her hair.

The victim's body was wrapped in a brown baby blanket. The body was placed in a gym bag, then a cement-filled metal suitcase. The suitcase was wrapped with silver duct tape, encased in a plastic sheet and hidden inside the television console nailed shut with plywood and placed at an isolated Ware County garbage dump.
The child had been dead one to two months prior to discovery. An autopsy was inconclusive because of the decomposition of her body. Investigators also don't know if she might have been alive when sealed inside the suitcase.
A logging truck driver who stepped into the woods to relieve himself discovered the girl's body when he became curious about an old television console laying nearby. The console broke open when he kicked it over - revealing a black metal suitcase hidden inside.
If you have any information on this child's identity or the circumstances surrounding her death, please contact:
Georgia Bureau of Investigation - Douglas 912-389-4103