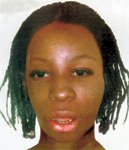 Located on January 17, 1997 in Queens, New York.
Cause of death was homicide
Estimated date of death is one to three days
Estimated age: 15 - 21 years old
Approximate Height and Weight: 5'4" - 5'6"; 130 lbs
Distinguishing Characteristics: Black hair; brown eyes. Thin to medium build and a medium complexion. Her nails were manicured, painted white with black stripes. Expensive hair extensions cascaded to her shoulders in neat braids.
Clothing: She was wearing blue jeans Blue Denim Republic brand, size 9-10. She also wore a Swenson watch with a with a gold face and a black leather band.
Dentals: She had braces on her teeth. Appeared to be 15 years behind the latest orthodontic advances, she possibly came from the Caribbean.
The victim was located in Queens, New York on January 17, 1997, in a empty lot on 170th St. and 105th Ave, wrapped in trash bags, strapped to an old cart, covered by cardboard and dumped in mud. She was stabbed in the neck, torso, arms and legs with deep cuts that sliced her heart, lungs and liver. Her skull was bashed in.