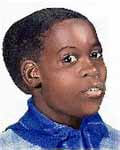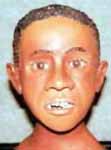 Located on February 26, 1999 in Dekalb County, Georgia.
The date of death was estimated to several months prior to discovery.


Estimated age: 5 - 7 years old
Approximate Height and Weight: 4'0"; 50 lbs.
Distinguishing Characteristics: Black hair
Dentals: He had wide gaps between his bottom front teeth.
Clothing: He was wearing a long-sleeved-hooded pullover shirt, somewhat unique because it was made of two different materials -- the body of the shirt was a blue plaid material, while the sleeves and the hood were a dark blue thermal. He also was wearing red denim jeans and a new pair of Timberland brown suede hiking boots, size 11 (medium). Timberland introduced this style of boot to the Atlanta area in June 1998, months before they went on sale nationwide.
Other: DNA available
On February 26, 1999, the skeletal remains of this boy were discovered in a wooded area in a cemetery located off Clifton Springs Road in Dekalb County, GA. Investigators have not been able to determine the child's cause of death.
The child appeared to have been well taken care of, he had clean teeth and clothes.
If you have any information concerning this case, please contact:
DeKalb County Police Department
404-298-8100
Or
DeKalb County Medical Examiner's Office
404-508-3500
Police Department Case Number: 98D-0259
Medical Examiner Case Number: 99D-0259-G

NCMEC #: NCMU400016
NCIC Number:
U-840000919